Oxford Scientific Films for Animal Planet International, 13x 30mins
Series cameraman / director
Nominated for 2007 EMMY Cinematography & Editing awards
Winner of the 'Gold Statue' Cinematography award at the New York Film Festival
Nominated for 'Best Animal Behaviour' Wildscreen 2008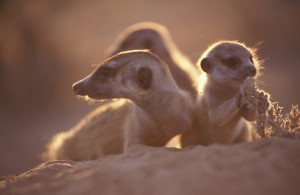 Filmed on the Kuruman River Reserve in South Africa, the series follows the fortunes of the 'Whiskers' group over a six month period. The storylines were very character based and driven by the real-life events that occured within the group; a rich blend of births, deaths, challenges and rivalries. Meerkat Manor as a brand has been extremely popular; breaking Animal Planet viewing figure records when first broadcast in the USA and nearly reaching the 4-million mark during its run on BBC2.
When we headed out to the Kalahari in November 2004 the intension was to make a series of programmes examining different aspects of meerkat behaviour; scent making, parental care, infanticide etc. But it became quickly apparent that there was a much more engaging and dramatic series to be made – the meerkats had such clearly defined individual characters, and the scrapes they got themselves into on an almost daily basis – meant that a real life 'soap opera' was going to be a format that would work really well.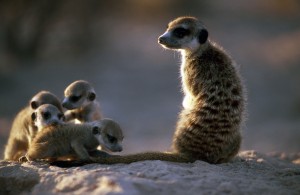 Each day we would log the footage and I would write up the storylines as they developed, cross-referencing against our logging spreadsheet. So when the rushes were delivered back to the UK the editors could quickly cut the stories in the knowledge that the correct named animals were being seen on screen. The first series had a fantastic level of authenticity – genuinely amazing storylines, with the correct animal protagonists on the screen – which is fairly unusual for a wildlife 'drama'.
The inspired choice of Bill Nye as narrator really helped define the series slightly wry, but highly engaging, approach.
We shot the first series on a real shoestring budget, living very simply, shooting on DVCam with a very straightforward camera package and getting very little sleep – up at 3.30am most days. It was a real achievement – for everyone on the team, from the biologists who helped us, through to the editors and producers – to make such a successful series to get so many award nominations. The EMMY was especially gratifying as we where up against the multi-million behemoth 'Planet Earth' in the cinematography category.
Here is a short sequence containing mild peril …