Macro motion control rig
I have designed and built a high-precision 6-axis motion control rig for macro filming in the field and studio.
The rig has fully independent control over X,Y,Z axis, pan, tilt & focus and can be run in real-time or time-lapse.
The rig is designed to run with industry standard Dragonframe software allowing for infinite control over all the axis in terms of positioning in three dimensional space and velocity curves.
Moves can be programmed in detail, positioning the camera, with total repeatability, within millimetres of the subject.
The effect is like a Steadicam or Technocrane, but on a macro scale; smooth flowing shots that tell a story in themselves.
I can also run the rig 'live' in real time via joystick control giving the option of reacting to behaviour on the fly.
This is an example of a fairly complex move from the showreel seen on the Dragonframe UI: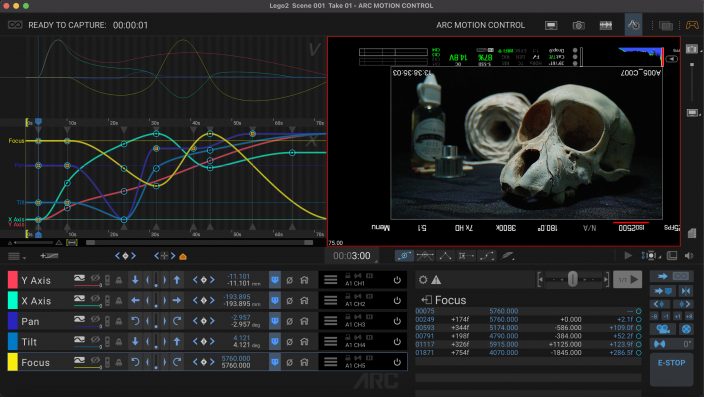 The rig is designed to carry cameras up to RED DMSC2 size and works perfectly with the Laowa 24mm scope, providing an incredibly immersive perspective on the macro world.
Designed for field and studio use, the rig can be powered entirely of 12V DC, V-lock, batteries or 120/240V AC. I've designed the rig to be completely modular and quick to assemble to allow multiple options for axis configuration and working height, and to give the flexibility to set up and be filming quickly in the field. The rig can operate completely wirelessly, with command and control signals to the motors carried over WiFi, camera monitoring over RF.
The showreel shots were filmed in my studio with a RED Helium and the Laowa 24mm scope, all shots are real-time with no stabilisation. The shots are designed to showcase some of the many capabilities of the rig, the options for using this as a storytelling tool in natural history sequences are unique and limitless.