Fender Telecaster
The first production solidbody electric guitar, hitting the streets in 1949, this was like nothing else ever seen. It was initially greeted with ridicule, now, more than 60 years later, it has proved to be a work of design genius. Much more straightforward and workmanlike than the Stratocaster that was to follow the Telecaster was, and still is, the ultimate no frills guitar.
A slab of Ash for the body, a bolt on maple and rosewood neck a basic bridge and very simple electronics give no hint of the sheer practicality and versatility for the Tele – it is the country guitar but it has been used in every genre imaginable from jazz and blues through to rock and heavy metal.
This is another home built guitar, I has a stock body and neck custom sprayed in nitrocellulose laquer and then gently aged by a company in the States, I then added the Fender decal and re-laquered the neck. The hardwear is all from Callham Guitars.
This was more ambitious in as much as I took on a bit more work – adding the decal, lacquering the neck with nitro and cutting the nut where all things I was doing for the first time. Cutting the nut was tricky, and I got through a few before I got it right – one misjudged stroke from a nut file and you are starting again, a millimetre is a very long distance when it comes to guitar construction!
It's turned out really well though, I'm thrilled with it – it sounds and plays fantastically.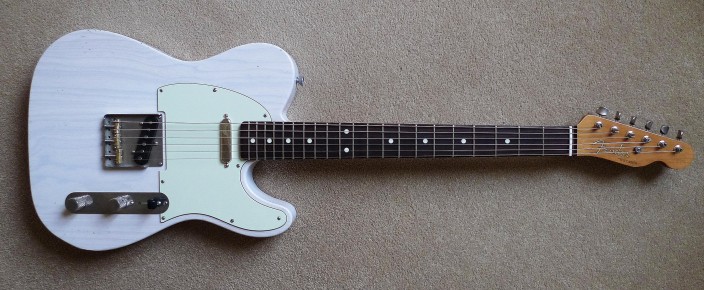 Telecaster:
Body:
Ash with white-blonde aged nitrocellulose finish
Neck:
Allparts neck, rosewood board, 10″ radius, jumbo frets, aged, tinted, nitrocellulose finish
Hardwear:
All Callham Guitars
Electrics:
Bare Knuckle 'Blackguard', vintage cloth wire, tone circuit on bridge pickup only.