BBC Natural History Unit for BBC2's Natural World strand, 1x 50min
Director / cameraman
Radio Times 'Pick of the Day' & 'Moment of the Week'
Nominated for Best of Festival at the Far North Film Festival, Alaska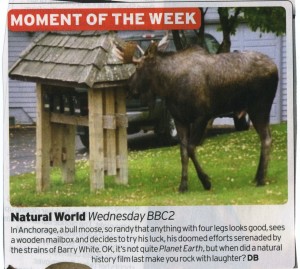 This is the extraordinary story of the the urban wildlife of Anchorage, Alaksa. A modern American city where 1,000 moose, 200 brown bears, 60 grizzly bears, 5 wolf packs and a whole host of other wildlife lives cheek by jowl with 250,000 human residents. Rick Sinnott and Jessy Coltrane are the Alaska Department of Fish & Game biologists who are in charge of keeping the the potentially chaotic situation under control.
But Rick and Jessy do much more than damage limitation, they are pioneers of a groundbreaking new approach to conservation. Based on the idea that preserving biodiversity on our increasingly urbanised planet depends on our relationship with 'wildness', Rick and Jesse believe that, wherever possible, humans and wild animals should live side by side. The wildlife benefits from this approach as it can move into and exploit urban niches as their natural habitat become increasingly pressured. While who would deny that it is good for the human soul to live alongside some of the most charismatic animals in North America?
This approach to conservation requires extremely skillfull management, and during the year it took to make the film Rick & Jessy were tested to the limit.
'Moose on the Loose' was Radio Times 'pick of the day' and had their 'moment of the week' together with an 'inside story' feature. It also featured prominently in other national press including a full page spread in the Daily Mail. 'Moose on the Loose' achieved an AI of 84. Here is a nice review from The Times on 14th April 2007.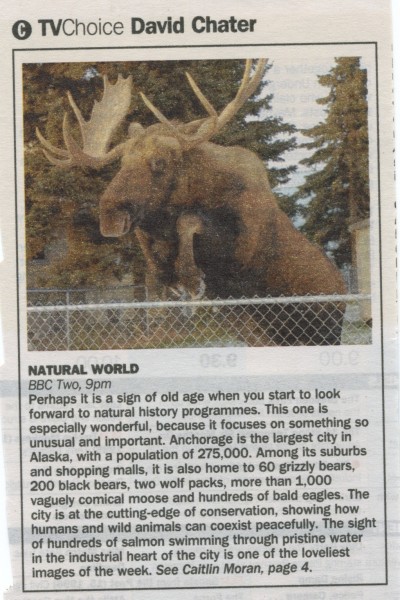 This was an incredibly difficult film to make; filming animal behaviour in an urban environment – with all the restrictions you face with fences, roads and private property (not to mention drive-by shootings) makes the conventional skills of observing and stalking wildlife very difficult to apply.
This was made worse by the fact that we knew there was amazing stuff happening all over town – because someone would invariable take a photo of it – photographs we would see on the front page of the Anchorage Daily News the day after it happened. If you have spent 8 hours driving around town looking for wildlife events with no success, to see a picture of three black bear cubs bouncing around on someone's trampoline on the front page of the newspaper the following morning, was never a good start to the day.
But we got there in the end, we handed out cards and flyers with our contact details on, and Rick and Jessy were fantastically helpful – even the local police dispatch would call me if there was a wildlife related 'situation' in progress.
This was the first Natural World film I'd conceived, pitched, directed and filmed and it very nearly finished me off. But I'm really proud of it now, Rick & Jessy are incredible and their work deserves to be shown. They have received fan-mail from all over the world since the film has been broadcast. We made over 100 DVD's of the film and every school and library in Anchorage has a copy, and it seems to have been on constant rotation on Animal Planet in the States for the last few years.
Here is a quick sequence with Rick & Jessy, and here is a sequence setting up Anchorage in the summer.